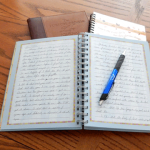 Journals are permanent records for posterity, and also provide a cathartic release for those who write them. It's like a track record of the highs and lows during your journey of life. And when you look back over them later, you see God's hand at work.
There's no right or wrong way to journal. You simply write down your thoughts as you go through different experiences, and what God says to you through Bible verses, music, books and other people.
You may want to include things like:
Thank you notes to God for everyday blessings
Praise to God for who He is
Prayer requests, leaving room to record how God answered that prayer
Notes from a sermon, Bible study, or seminar that really spoke to you, and why
Poems, songs or devotionals you have written and what the circumstances were when you decided to write them
Poems, songs, or devotionals that meant a lot to you and why
How other people have brought you blessing
How God used you to bring blessing to others
Thanks to God for cute or special things someone in your family said or did
Affirmation of your love for your family
A blessing on your kids or grandkids (nieces, nephews, godchildren)
When your faith was tested and how it affected you
How God guided you into decisions, how you obeyed and how it blessed you
You can also tape in things like special bookmarks, retreat programs, or other writings that God used to speak to you.
What are some other things you can think of that you would like to include?
Here is a list of Scripture references you may want to include as well.