It was a Saturday evening. Our home group had gathered to specifically pray for one of our members who had landed in hospital with a heart condition. Following prayer and fellowship, we went home. And I just knew, that I knew, that I knew, he would be OK. I slept well that night.
The next morning it was my turn to drive his wife and three sons to Vancouver General Hospital so she wouldn't have to make the drive herself under these emotional conditions. She had called the hospital, and because he had had such a good night, she decided the three boys would go to church with friends, to maintain some sort of normal in the midst of a very tumultuous week, so she and I went into Vancouver together.
We had a good trip, talking and sharing, knowing that God was already answering our prayers for her husband. After parking the car, I sat in the empty waiting room with my knitting, knowing that all was well.
When the doctor arrived a short while later, he told my friend to gather the family to say their good-byes as there was nothing more they could do for him.
I was confused. How could this be? Hadn't we prayed? Hadn't I been assured he would be OK? I'm not really an intercessor, but I immediately began to pray when God stopped me and asked that I sing, out loud.
Well, that doesn't make any sense, and it's not normally what I would do, but quite reluctantly I started to quietly hum an old hymn. God immediately pointed out that humming was not quite the same as singing, and I was to sing – out loud. And so I began to sing old hymns and worship songs (although out loud, I was being quite quiet, as I really did feel rather foolish). Songs like: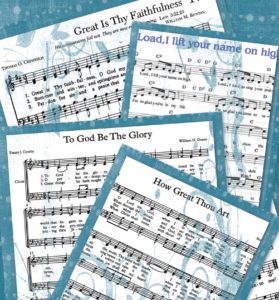 "Great is Thy Faithfulness",
"To God Be the Glory",
"Lord I Lift Your Name on High".
It's amazing how many songs and hymns I remembered from my youth as I sat there. Soon others were coming into the room to pray, and I felt even more foolish.
Long story short, my friend returned home a few days later and lived for several years thereafter, watching each of his three boys graduate from high school.
I, however, was questioning God – why did He ask me to sing at that time?
He drew me to a few select verses in 2 Chronicles chapters 5 & 20:
13 It came to pass, as the trumpeters and singers were as one, to make one sound to be heard in praising and thanking the Lord; and when they lifted up their voice with the trumpets and cymbals and instruments of music, and praised the Lord, saying, For he is good; for his mercy endures for ever: that then the house was filled with a cloud, even the house of the Lord;
14 So that the priests could not stand to minister by reason of the cloud: for the glory of the Lord had filled the house of God.
17 You shall not need to fight in this battle: set yourselves, stand still, and see the salvation of the Lord with you, O Judah and Jerusalem: fear not, nor be dismayed; tomorrow go out against them: for the Lord will be with you.
21 And when Jehoshaphat had consulted with the people, he appointed singers unto the Lord, that should praise the beauty of holiness, as they went out before the army, and to say, Praise the Lord; for his mercy endures for ever.
22 And when they began to sing and to praise, the Lord set ambushments against their enemies; and they were smitten.
There are actually quite a number of references in the Bible to music, instruments and singing as the Israelites went into battle – as well as for rejoicing when they returned triumphant.
So – why do I tell you this story?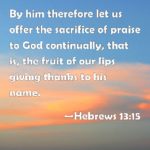 Many, if not all of us, have battles we're fighting: health issues, financial issues, relationship issues, hurts and misunderstandings – and the list goes on. My mind is distracted right now with stuff I am also going through. And while we definitely should pray for guidance and for God to intervene, sometimes we need to follow the instructions from Hebrews 13 and offer a "Sacrifice of Praise."
In the midst of all the stuff that overwhelms me right now – I choose to sing to my Lord. Will you join me?
Something to think about:
When was the last time you felt that praising God was a sacrifice?
Are you currently going through some issues in your life for which the "sacrifice of praise" would lift you to a higher place?