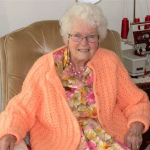 At the age of 92, our Mom (now affectionately known as GG) heard that her eldest great-granddaughter, Camille, was engaged to marry Michael. So she immediately considered working on another quilt.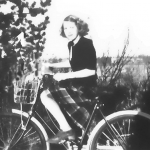 While rummaging through some old photos, she started reminiscing about when her daughter, Gertie, (Camille's grandmother),was young and would ride off on her bicycle.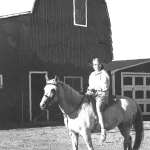 Then she came across a picture of Camille in her younger years, riding a horse at the Kingdon farm near Russell, Manitoba. But it was when she saw a picture of Camille's new set of wheels that the idea really started to take shape.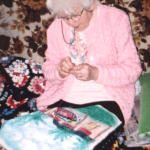 Thus GG embarked on the making of an historic "Transportation Quilt" -– handmade with love. Many of the blocks are from Mom's life experiences and explained in greater detail in the Elliott Family Story written by Camille's grandfather.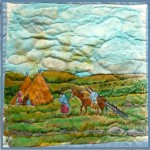 Travois –
A primitive vehicle used by the First Nations people on the Canadian Prairies. It consisted of two long poles serving as shafts for a horse, with a platform or net for the load.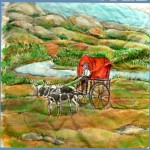 Red River cart –
A stout, two-wheeled horse-drawn, or ox-drawn cart, used in the settlement of Western Canada.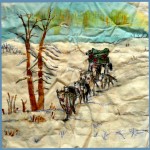 Dog team –
Used extensively in Northern Canada as a means of travel. This one is from a painting Gertie did on Christmas cards, and shows the famous Northern Lights.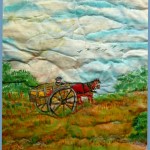 Ox cart –
Before horses were readily available on the Canadian plains, settlers used oxen, a very slow means of transportation.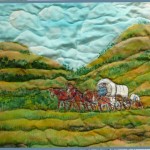 Covered wagon –
A large wagon covered with canvas stretched over hoops, used by pioneers heading west. The pioneers loaded their families, all their belongings, cooking supplies, etc. into these horse-drawn wagons, with a few livestock following behind, and they headed out to seek new farmland.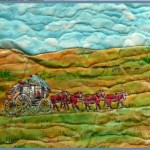 Stage coach –
A large, horse-drawn, four-wheeled vehicle, with a regular route from town to town. It was a means for people to travel in pioneer days, and there is a possibility that's how GG's mother crossed the United States.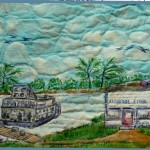 Steam boat –
A small steam boat on the river at Volusia, Florida. The boat was operated by Lewis Eldridge (GG's grandfather) and carried passengers and merchandise, as there was no railway in the area at that time. This location was the scene for a book "The Yearling," later depicted in a movie by the same name.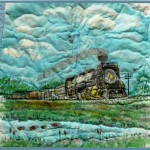 Steam railway –
Trains greatly facilitated the movement of people and supplies. The Canadian Pacific Railway was completed across Canada in 1885. Camille's great-grandfather made a career as a locomotive engineer on the CPR, and earlier, her great-great-grandfather, on the Kingdon side of the family, served as a boilermaker for that railway. The steam engine was fired by coal or wood.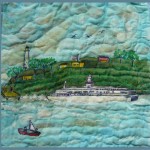 Ocean liner –
As airplanes had not yet been invented, family ancestors arrived in North America in 1830 by ship.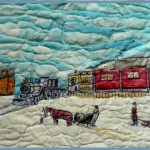 Train station in Brandon, Manitoba –
GG's mother and firstborn arrived by train from Montana.  GG's father, W. A. Elliott, was an architect and had come earlier in search of work. He eventually secured a contract to build the first church in Crandall, Manitoba, which enabled him to bring his family to Canada. The train had a pot belly stove, so they were able to keep warm during the cold winter travel.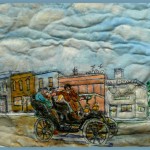 Pa's first car –
In 1906, W. A. Elliott was able to purchase a new car, possibly a Ryerson, and he is shown driving it down Rosser Avenue in Brandon.  Seated with him are three of GG's older brothers and her older sister. The first horseless carriage arrived in Brandon in 1903.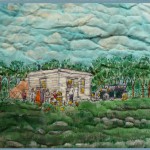 Summer house –
This was a 2-1/2 acre property at 4th & Richmond, Brandon. The down payment on the property was made with money GG's two oldest brothers earned delivering The Free Press and The Saturday Evening Post. The boys slept in the tent, while their parents and aunt slept in the house. GG was born here.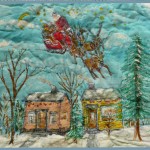 Reindeer and sleigh –
Even Santa needed transportation.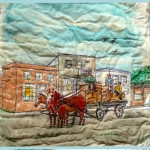 Dray –
Camille's great-grandfather and uncle developed a business in Russell, Manitoba to move goods from the local train station to wherever in town they were destined. The wagon had a wide, flat platform, and was pulled by a team of draft horses.  This was a forerunner to truck transport.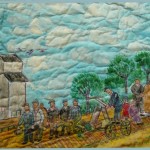 Railway hand car –
A small, open railway car, propelled by a hand pump, was used by railway employees servicing the track. The Elliott Family travelled Western Canada providing classical music entertainment.
On one occasion the family was stranded in a rural Saskatchewan town, and the only way to get to the next town where they were scheduled to perform, was by a railway hand car. They put a board on the jig car to hold the bass fiddle, and GG's mom and sister rode on it with part of the luggage. The boys, with their instruments, hiked. It was after this that Pa decided they needed their own means of transportation.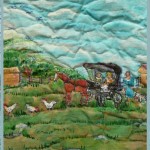 Horse and buggy –
GG explains, "My  brother, Buster, and I were left in Vernon, BC, with Aunt Carrie Eldridge, so we could attend school while the others toured through the States. We often got to ride the horse named Joe, but nicknamed "Dynamite".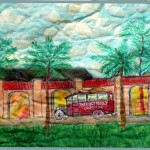 Touring van –
This was designed and built by Pa for use by the Elliotts to transport instruments and the family on tours of Western Canada and along the west coast of the USA and into Mexico. For their first big trip, a hole was cut in the roof of the vehicle so the bass fiddle could stand upright; then they made a hump over the hole so no water could leak through when it rained.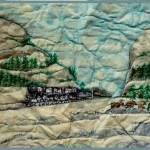 Train transport –
By the time of their last concert tour in 1927, the Elliott Family Orchestra was a three-vehicle caravan. At the Crows Nest Pass in BC, road travel was blocked by snow, so their vehicles were loaded onto flat cars on the train in order to proceed through the pass.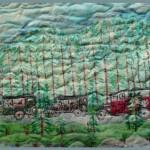 Caravan –
This block depicts the three vehicle caravan proceeding on the road to Cranbrook, BC. Trees with hoar frost sparkled like diamonds in the sunshine – a heavenly cathedral – just gorgeous!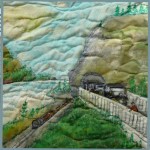 Columbia River Highway –
What a surprise to see the first paved road on the trip to Portland, Oregon, to get through the mountains. GG and the youngest brother were on this trip in 1927/28. It was near the end of November, and the only way to get to Vancouver through the mountains at that time was to detour through the United States.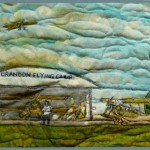 Brandon Flying Club –
GG's oldest brother was interested in flying and helped to start a flying club in Brandon. He also built the beacon light, the first in Western Canada.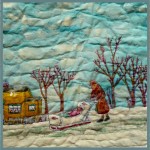 Baby sleigh –
In November 1932, Pa designed and made a sleigh for Gertie's first Christmas present, so GG could have transportation for her. It was also used to carry groceries, washing, etc. during the winter in Manitoba.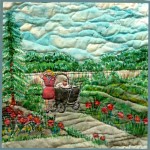 Baby carriage –
Gertie is standing beside the carriage, and her brother is the baby at their home in Brandon. This carriage was used not only for babies of the family, but also to transport a set of dishes from the store to home – dishes earmarked for Camille.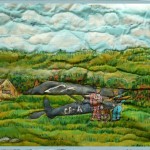 Airplane rescue –
In 1937 a light airplane crashed in Riding Mountain National Park, Manitoba. This picture shows an RCMP officer, search dog and GG's brother, who participated in the rescue mission.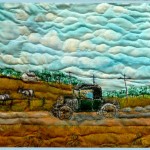 Chevy coupe –
This is the car our Dad owned when he courted our Mom. Flat tires were common in those days, and as there was no spare, it was necessary to stop, patch the tire, and inflate it again.

School bus –
In the early days, children used to walk to school, or they rode horses. Eventually school buses were used.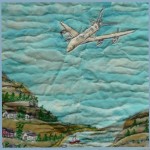 Airplane –
The modern jet airliner, a favourite means of travel.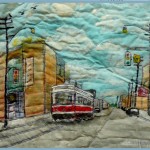 Street car –
Still used in Toronto.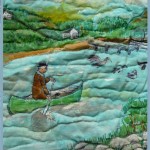 Canoe –
Canadian history records extensive use of the canoe in travelling across this great country. Here is Camille's grandfather in a canoe at their cottage on Lac Gagnon, Quebec. It was the only way to get to the cottage, as there was no access by road.
Trailer and van –
Camping is very popular in Canada.  This picture shows a camping spot on the TransCanada Highway. Camille and her brother, travelling with their grandmother, stopped there on a trip to Manitoba.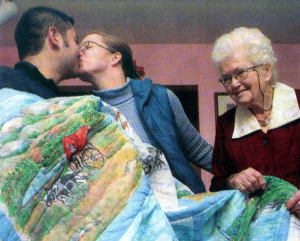 Are there any transportation stories in your past that you could share with your family? How will you depict them?