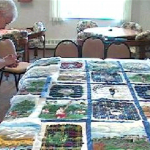 When Angie and Mike announced their engagement, Grandma started thinking about making a quilt. This was to be very special – maybe even a family heirloom. Rather than the traditional scraps of material, fabric paints were used. So each block is like a separate painting within the whole. Each block contains an aspect of family history – particularly the Scottish heritage.
A number of relatives gathered to share in the opening of family gifts. But one particular package was saved for last.
"Unbelievable! It's absolutely unbelievable," was the response from the bride and groom.
And so the quilt was spread out for all to see, while the historical significance of each block was explained: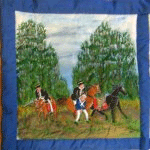 The Armstrongs –
The traditional story says that the head of the clan was Fairbairn, an armour bearer of the King of Scotland. Apparently he went to assist the King whose horse was killed beneath him during battle. Grasping the King, Fairbairn pulled him up on his own horse, saving his life. For this service, the grateful King granted Fairburn lands along the Scottish border, and gave him the name of Armstrong. The first family of the name on record in Scotland is found in Liddesdale sometime prior to 1376. (Angie's maternal grandfather was an Armstrong.)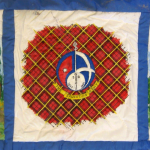 A Salvation Army crest and tartan –
Taken from a postcard which Angie and Kathy mailed to Grandma from Scotland. It was on this trip that Angie and Mike started to notice each other as special.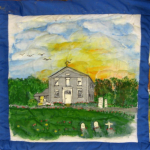 Methodist Church –
William Armstrong of Wilstead donated the land on which the church was built, as well as some of the building materials. He was buried in the church cemetery circa 1840.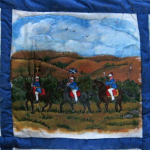 The Crusades –
The Elliotts were in the Crusades, possibly near Jerusalem. After a visit to the ancestral home around 1940, a cousin of W. A. Elliott (Angie's great grandfather) reported that someone had taken the sword used in the crusade and its whereabouts are unknown.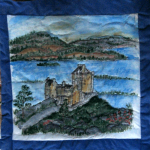 Eilean Donan Castle (Island of Donan) –
Named after the 6th century Irish Saint, Bishop Donan, who came to Scotland around 580 A.D. Eilean Donan offered a perfect defensive position, and played a role in the Jacobite uprisings of the 17th and 18th centuries.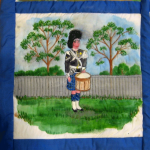 Traditional Scottish drummer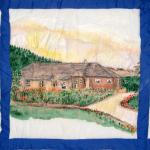 Liston House in Ceylon (Sri Lanka) –
The Liston's coffee plantation in Ceylon became diseased. Meanwhile, Mrs. Liston became seriously ill and went back to Britain, but died enroute. The plantation was sold to Thomas Lipton, who planted tea. Mr. Liston decided to bring the family to Canada and settled near Souris, Manitoba.
This picture of the house in Ceylon was taken from a water colour painted by Frances Weaver of Wales, a cousin of the Listons. A daughter of the Listons, also named Gertrude, taught school at Terrance, Manitoba, and was active in the church where she played piano. She married Joseph Topham Armstrong, whose ancestors came out from Scotland. They were Angie's great grandparents.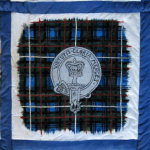 Robertson crest and tartan –
This represents Mike's family heritage.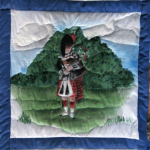 Traditional Scottish bagpiper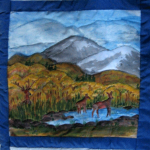 Red deer –
These are native to Scotland.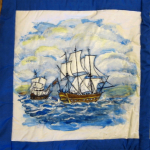 Battleship –
In battle near Trafalgar where Lord Nelson was killed, General George Elliott became a hero and was knighted as Lord Heathfield in 1787. His remains are buried in the Church for Heroes.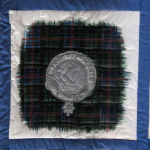 Armstrong tartan and family crest –
Depicting Angie's heritage.

Bride and groom –
Although it doesn't quite look like Angela and Michael, she did wear a white gown and he wore a Scottish kilt.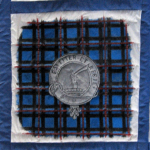 Elliott crest and tartan –
Angela's maternal grandmother was an Elliott. She is the one who made this historical quilt.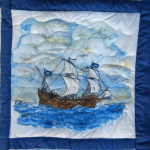 Scottish (lion) battleship –
Used by the Royal Navy (England) to protect sea trading.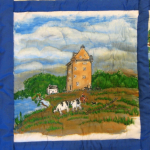 Gilnockie Castle –
Home of Johnnie Armstrong, the most famous of all the Border Reivers. James V was frustrated and infuriated by the disorder in the Borders, and was determined to establish his authority in that area. Johnnie Armstrong was the second son of the chief of the Armstrong's – Alexander Armstrong Laird of Mangerton, the largest and most powerful family on the Borders. Johnnie and a number of his comrades were lured to a meeting with James V at a place called Carlennrigg. The King had Johnnie and his companions arrested, then without trial, they were hung in November 1531.The castle still stands, about 12 miles from Newcastleton.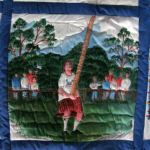 Caber toss –
A traditional Scottish athletic event practised at the Scottish Highland Games involving the tossing of a large wooden pole called a caber,(similar to a telephone or power pole).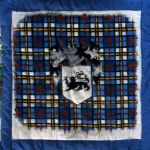 Thompson crest and tartan –
From Angela's father's side of the family.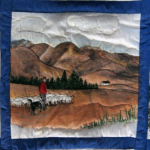 New Zealand sheep –
Although sheep are quite prevalent in Scotland, Mike's father's family came from New Zealand. So here's some New Zealand sheep, taken from a painting by Angela's aunt, Gertie Kingdon. This painting was her wedding gift to the bride and groom.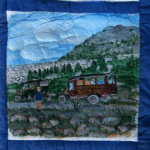 Frank Slide –
This was taken from a snapshot of the site of Frank Slide during a tour by the Elliott Family Orchestra, July 1923. Mom's father, W. A. Elliott, is in the foreground, with her brother, Stanley, in the truck.
This family, with eight children, toured Western Canada, the USA, and down to Mexico, bringing music to the people in the days prior to television and radio.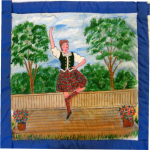 Traditional highland fling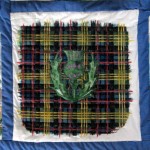 Watson tartan with Scottish Thistle –
Representing Michael's mother's family, as well as the Scottish national flower – During a battle an enemy stepped on a thistle and yelled "Ouch", thus warning the Allies.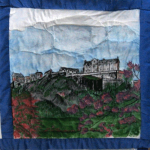 Edinburgh Castle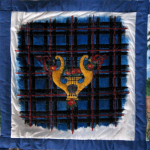 Elliott Family Orchestra family crest on the Elliott tartan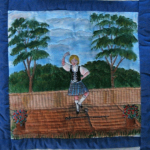 Traditional sword dance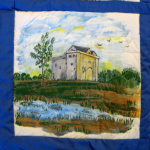 Hermitage Castle –
A bastion of power in the "debatable land" that was exchanged between English and Scottish hands during border wars and skirmishes. During a feast at the castle, the Laird of Mangerton, by William Lord Soulis, erected the Milnholm Cross nearby in memory of Alex Armstrong, who was killed here in 1320. It is believed his remains were buried here.

Duncan Phyfe furniture –
Originally a Scottish company and later manufactured in the USA.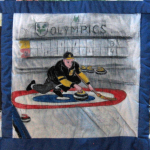 Curling –
Originated in Scotland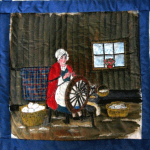 Spinning wool –
A major industry in Scotland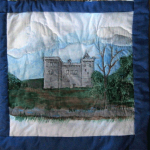 Castle –
Located in the vicinity of the Elliotts and Armstrongs. These clans lived in close proximity, and they were also close in activities and intermarriages.