Mom's first heirloom quilt was completed for her granddaughter Bev and her groom Kevin, on the occasion of their wedding. At the age of 87, Mom was able to travel approximately 1,200 miles (1,931 km) to deliver the quilt in person.
Although some of the blocks are based on a purchased pattern, many of them were designed by Mom herself. These are designated * in the narrative that follows.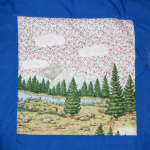 Mountains and Streams*
I lift up my eyes to the mountains—
    where does my help come from?
~ Psalm 121:1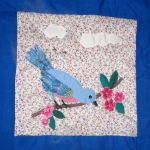 Bluebird of Happiness*
…blessed is the people
whose God is the Lord.
           ~ Psalm 144:15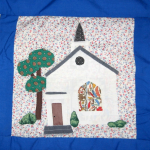 Church*
…not giving up meeting together,
as some are in the habit of doing,
but encouraging one another —
and all the more as you see the Day approaching.
~ Hebrews 10:25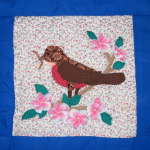 Robin*
A symbol of friends and friendship.
One who has unreliable friends soon comes to ruin,
but there is a friend who sticks closer than a brother.
                                                       ~ Proverbs 18:24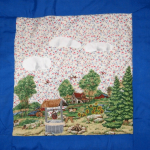 Farmer's Well*
This well speaks of "Living Water".
"Whoever believes in me, as Scripture has said,
rivers of living water will flow from within them."
~ John 7:38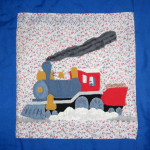 Train Engine*
A reminder of Grandpa who was a railroad engineer.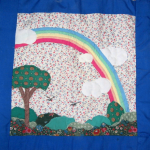 Rainbow*
A constant reminder of God's promises.
"I establish my covenant with you:
Never again will all life be destroyed by the waters of a flood;  never again will there be a flood to destroy the earth."  ~ Genesis 9:11

Hearts and Tulips
A happy heart makes the face cheerful,
    but heartache crushes the spirit.
~ Proverbs 15:13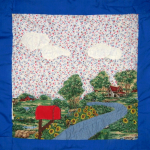 Mailbox*
Correspondence – keeping in touch with family and friends.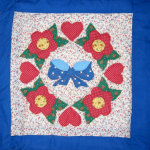 Flowers
The wilderness and the solitary place shall be glad for them, and the desert shall rejoice and blossom as the rose.
~ Isaiah 35:1 (KJV)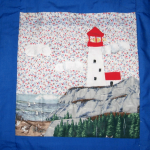 Lighthouse*
You are the light of the world …
~ Matthew 5:14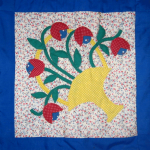 Basket of Tulips
Tulips are one of the first signs of spring,
and speak of renewal and new life.
…to be made new in the attitude of your minds…
                                                  ~ Ephesians 4:23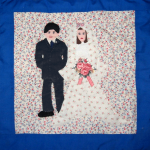 Bride and Groom
He who finds a wife finds what is good
and receives favour from the Lord.
~ Proverbs 18:22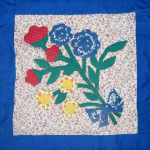 Bouquet of Flowers
The grass withers and the flowers fall,
but the word of our God endures forever.
~ Isaiah 40:8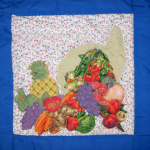 Thanksgiving*
Enter his gates with thanksgiving and his courts with praise; give thanks to him and praise his name.
For the Lord is good and his love endures forever;      his faithfulness continues through all generations.
                                                        ~ Psalm 100:4-5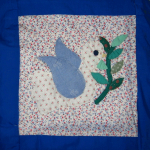 Dove
Symbol of Peace
Let the peace of Christ rule in your hearts, since as
members of one body you were called to peace.
And be thankful.
~ Colossians 3:15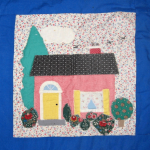 House*:
Given to hospitality.
Share with the Lord's people who are in need.
Practice hospitality.
~ Romans 12:13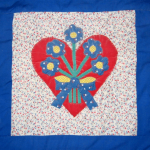 Heart and Flowers
Rid yourselves of all the offenses you have committed,
and get a new heart and a new spirit…
~ Ezekiel 18:31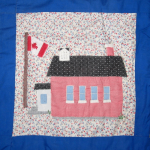 Little Red Schoolhouse*
Represents education and the need for lifelong learning
The wise store up knowledge …
~ Proverbs 10:14

Grain Elevators*
A reminder of the Brandon connection
(also known as the "Wheat City")
…open your eyes and look at the fields!
They are ripe for harvest.
~ John 4:35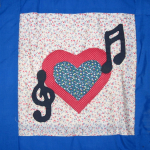 A  Song in the Heart*
He put a new song in my mouth,
    a hymn of praise to our God ...
~ Psalm 40:3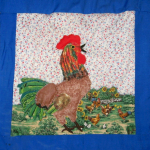 Rooster*
The Lord has done it this very day;
    let us rejoice today and be glad.
~ Psalm 118:24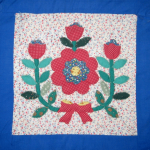 Flowers
Consider how the wild flowers grow.
They do not labour or spin.
Yet I tell you, not even Solomon in all
his splendor was dressed like one of these.
~ Luke 12:27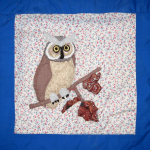 Owl*
Symbol of Wisdom
The fear of the Lord is the beginning of wisdom,
    and knowledge of the Holy One is understanding.
~ Proverbs 9:10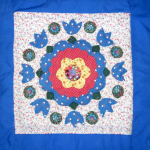 Blue Flowers
And why do you worry about clothes?
See how the flowers  of the field grow.
They do not labour or spin.
Yet I tell you that not even Solomon in all his splendor
was dressed like one of these.
~ Matthew 6:28, 29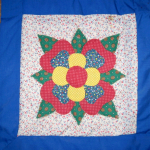 Large Flower
Beauty.
He has made everything beautiful in its time.
~ Ecclesiastes 3:11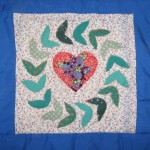 Heart and Vine
I will give you a new heart and put a new spirit in you;
I will remove from you your heart of stone and
give you a heart of flesh.
~ Ezekiel 36:26

Butterfly
Freedom
So if the Son sets you free, you will be free indeed.
~ John 8:36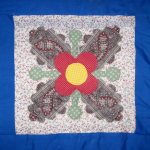 Flower with Oak Leaves
That person is like a tree planted by streams of water,
which yields its fruit in season
and whose leaf does not wither—
whatever they do prospers.
~ Psalm 1:3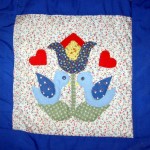 Bird and Tulips
A reminder of our Dutch heritage
So don't be afraid;
you are worth more than many sparrows.
~ Matthew 10:31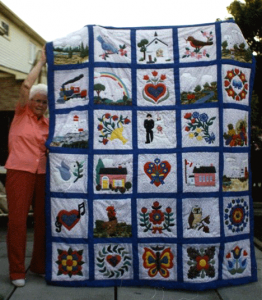 For I know the plans I have for you, declares the Lord,
plans to prosper you and not to harm you,
plans to give you hope and a future.
 ~ Jeremiah 29:11