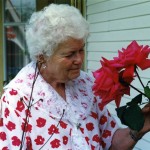 Mom learned about plants and gardens from her mother, many years ago. While walking through a park at the age of 91, she was inspired to paint a quilt for her granddaughter, Kathy, as a gift for her upcoming marriage.
But this wouldn't be just an ordinary quilt, nor an ordinary garden. It was to be a bouquet of memories so Kathy might learn about gardens as well as some of her family heritage.
Unfortunately Mom was not well enough to make the trip to Toronto to deliver the quilt in person – but she was able to complete the project and send it with our brother for this extra special occasion.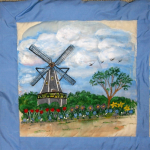 Windmill –
Mom's grandfather, Lewis Eldridge, was raised by two aunts who were Van Horne's, of Dutch heritage. (His mother died when he was born, and his father disappeared on his way to New York, possibly to stake his claim in the California gold fields where he reportedly had struck it rich). Hence the Dutch influence in gardening – tulips and bulbs.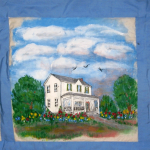 House –
This house was built by Lewis next to a small lake, named after Mom's mother. There's a lot of history about Lewis' life in Volusia and Tampa, Florida, where he went after serving in the Civil War, as well as in the West Palm Beach area, and at Jacksonville, Florida.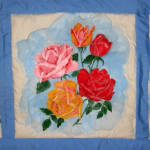 Roses –
Mom said it was in Florida that her grandmother grew prize roses, competing against Mr. Stetson, the famous "Hat" man. It was also there where her mother developed her fondness for music and learned to play piano from her mother.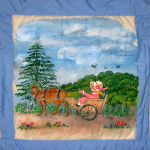 Goat cart –
Mom's aunts rode around the estate in a goat cart.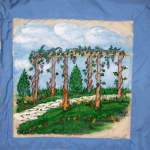 Grape arbor –
As children, Mom's mother and sisters were warned to be careful when playing near the grape arbor because of the snakes. These were not little garter snakes, but big ones…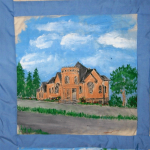 Church –
Mom shared this information, along with the quilt: "After my grandmother died, grandpa moved the family to Atlanta, Georgia, where Aunt Carrie went to business college.
"Grandpa had remarried and moved some of the family to Louisville, where they were when he later died. Things in Georgia were not going well for Mom, so she moved to Anaconda, Montana, to stay with her sister, Emma. She made a meagre living giving piano lessons. Meantime, W.A. Elliott (my father), and some friends also decided to head for Anaconda, as they heard there were jobs due to the expansion at the copper mines."
At that time the Methodist and Baptists combined their congregations while a church was being built. Emma was the organist at the Baptist Church. Mom's father was coaxed to sing in the church choir, and when asked to sing a solo, Emma was to accompany him. However, due to other commitments, she couldn't. Emma introduced him to Hester and said she was quite capable of accompanying him on the piano.
That was the beginning of their romance that led to marriage.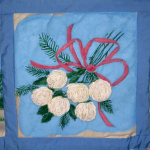 Chrysanthemums –
"Their marriage was set for November 9. Pa had trouble remembering the name of the flowers Mom wanted for her bouquet and had to go back and ask her again. Possibly the reason she asked for mums, when her favourite was roses, could have been because they were in season, and being a small town in those days they may not have been able to supply roses."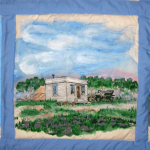 Small house –
"Pa received a letter saying things looked promising around Brandon Manitoba, so he decided to make the move, leaving Mom behind as she was expecting the birth of their first child.
"Pa got a bit of work with a contractor north of Brandon, but things didn't work out and Pa was feeling pretty desperate. Dr. Crandall came to him about building a church at Crandall, Manitoba. That was a lifesaver! Pa could now send for Mom. She arrived with their firstborn in January 1900. A building boom had started in Brandon, and eventually Pa built the large house at 110 Eleventh Street…
"Pa's office was next to the living room, where the noise of seven kids bothered him when meeting clients. Mom suggested getting property at 4th & Richmond, but Pa said they couldn't afford it.  So to help raise the money, Mom got the agency for The Free Press which my oldest brother also delivered. (He later won a gold watch for sales.) Harris delivered The Saturday Evening Post, and won a trip to Chicago due to his sales. The earnings were put into a jar and later made the down payment on the 2-1/2 acre Richmond property, with the small house. They spent summers there with the boys in the tent, and parents, with Aunt Carrie, in the house. I was born there shortly after the photo was taken – July 31, 1911."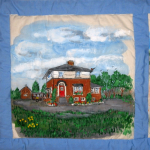 Big house –
"The family, except Aunt Carrie, had moved to Winnipeg where Pa was appointed Chief Inspector for the construction of the Legislative Building. Things didn't go well, so it was decided to move back to Brandon.
"The 11th Street home was sold, and with help from Aunt Carrie's Victory Bonds, the building of the house on Richmond took place as a family effort, all pitching in. I was about 4-1/2 years old, and helped mix cement.
It was there that I got my first introduction to gardening. I helped Mom plant the flowers around the house. Also, there was the big vegetable garden. It wasn't considered work, and there was the fun of pulling up "twitch grass" with very long roots and swinging it around over our heads to fire at each other."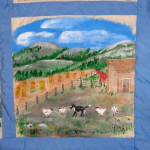 Scene at Vernon, BC –
"While the family was on an orchestra trip in July 1923, "Buster" and I were left with Aunt Carrie at Vernon on shared property as part payment on the 11th Street house. Buster and I shingled the chicken house, and stooked the grain which was grown to feed the chickens.
It was about a 2-1/2 mile walk to school when we didn't ride the horse "Joe" nicknamed "Dynamite". After two years, we returned to Brandon by a special harvesters' train which brought workers for the harvest."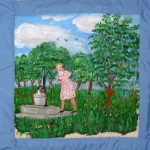 Well –
"This well was east of the house in Brandon, by a big poplar tree. When the well went dry, we got water from a city well at 4th and Brock Avenue, more than a block away. We had a big cistern in the basement that provided rain water for washing, etc., but had to carry drinking water. In the winter, it meant carrying hot water to prime and melt the ice before we could pump water. Later, a well was dug behind the sun porch. A long story on that one…"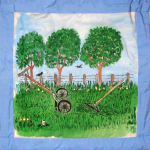 Lawn mower –
"We took turns mowing the large grassy area in front of the house, hand push mower, of course. There was more than an acre of it, and sometimes it was a foot high. The odd gopher would peek up, and dandelion leaves were picked for "greens" for dinner."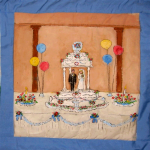 Wedding cake –
"All the sweet roses didn't go into the garden. I won a prize for the wedding cake shown at the Fair. From then on, I did lots of cakes. Aunt Carrie said a relative on mother's side used to ice cakes, so guess I came by it honestly."
House on 13th Street, Brandon –
"After a second trip to Vancouver, most of the family returned to Brandon. We lived in tents on the property while the house was built. Later, in the rock garden, it was my job to plant the flowers, some of which are still growing there.
"This is where I was married, and also where Gertrude was born."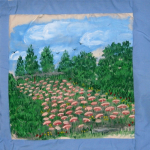 Mushrooms (Manna from heaven???) –
"The depression was in full swing – there was no railroading as there were no crops to move, and gardens were very poor.
"After winter on $2.10 per week, my husband, Elliott, got work on construction at the Mental Hospital, but we would have to wait a whole month for his first pay.  By then I was expecting Gertrude and not well.
"A friend asked me to paint some cushions she wanted to use as gifts. On the way over to her place to deliver them, I passed a whole block of mushrooms on the north side of 6th & Richmond. I would pick a basketful each day, and Elliott would peddle them after work. That sustained us until his pay came in – following which the mushrooms disappeared, never to be seen there again."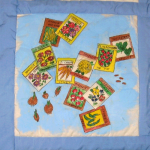 Packets of seeds –
"You can't have a garden without seeds. Elliott had worked at McKenzie's Seeds during the winter. We had moved to a house owned by his cousin, Eric Fallis, on Dennis Street, where we had some garden space.
"When the house was sold, we moved to 14th & Sable at the bottom of the north hill, on a half block of land.  Gertrude was about 2-1/2. There we had a big garden, as well as a cow and goat."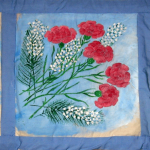 Carnations –
"For a short period I worked at a florist shop, until the owner sold out and moved east. There I made up arrangements, and even wedding bouquets."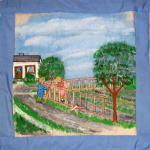 Building the fence – 
"In 1936 we moved to the corner of 5th Street & College Avenue. We had a small vegetable garden, but it was a temptation to kids going through our yard. Sometimes rows of small carrots were pulled, and of course the crab apple tree took a bit of looting.
"Many years later, while Elliott was out on the railroad, Gertrude and I proceeded to protect the garden. There was also the story of Grandpa spraying the apple tree and dusting it with flour. The looters said, "That awful man poisoned the tree."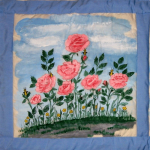 Rose bushes –
"Our rose bushes got infested with bugs. As money was scarce for poison spray, I offered some of the family a penny for every 10 bugs they caught. Five cents would buy an ice cream cone, so they didn't do too badly. The kids also sold a few bushes to neighbours."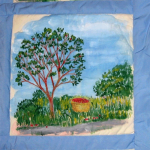 Apple tree –
"I helped Mom plant an apple tree at the residence on 8th Street, near Richmond. She said she didn't expect to see the apples, but someday someone would.
"They moved shortly after that (in 1940) to West Vancouver where I helped plant again, when on visits.
"I also helped plant roses at the "Spanish House". Mom and I would often walk up to Patmore's Nursery. Mr. Patmore let Mom have roses imported from Holland at cost and said if anyone could grow them she could. He wanted to know the results so he could decide whether to order more or not.
"That's when I got a real lesson planting roses. Some of the roses bloomed until November. Mom knew how to protect them and winterize the climbing roses. I helped to plant them in West Vancouver, where we also planted spruce trees, some of which are now about 50-60 feet tall."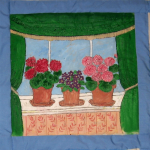 Geraniums –
Mom would start many geranium seedlings to be given to all mothers in attendance at church on Mothers' Day. She also propagated them for gardens and gave plants away.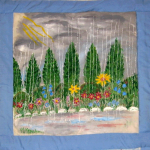 April showers –
You can't have a garden without rain!
Greenhouses –  Mom continues "When my husband died in 1971, I moved to the house which my son, Elliott, purchased at 1601 – 8th Street. It had the greenhouses.
Because of additional bereavements that year (two brothers also passed away) and related travelling, it was quite some time before I got into the greenhouses, but eventually I was able to sell a few bedding plants."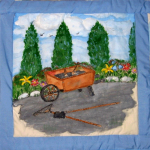 Wheelbarrow –
"I spent many hours and days hauling dirt, rocks, and plants for gardens."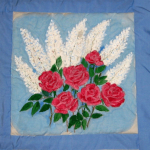 Roses and white lilacs –
"We couldn't afford flowers for the church for Gladys' wedding, so I bought some silk roses and arranged with the proprietor of Patmore's, who I knew, to get some free white lilacs.
"I showered and partly changed my clothes to be ready for my hair appointment after getting the lilacs. I got stuck in a runoff puddle and got out of the car up to my knees in muddy water. The proprietor came and pulled me out, then went and cut the lilacs for me.  I rushed back to the house, and called Bev to sneak a sandwich for me while I cleaned up again.
"Someone later said they didn't realize the roses weren't real until they noticed no petals dropped."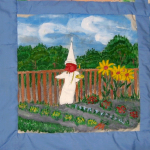 Mr. Grundy of Sleepy Hollow –
"This was a tomato grown at the 6th Street house. I put a nightgown and cap on it, and used a button for the candleholder. This made Fred McGuiness of The Brandon Sun change his mind about printing any more stories on garden produce for that season. He lit the candle and photographed it, and had the write-up printed in the paper."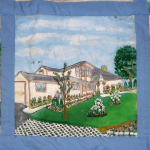 Townhouse in Langley –
"When I moved in with my brother, Buster, after his wife had died, we moved the dogwood trees which were too close to the house, and put them out onto the lawn. We also put in flower beds."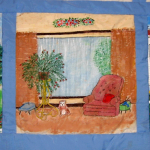 Christmas cactus –
"These are small rooted cuttings of the cactus given to me by my friend, Mrs. Brigadier Rae, after my husband died. That was 30 odd years ago.
"Mrs. Rae still mentioned an incident over 50 years prior when we went to visit them in Regina and took some vegetables. They were grown at 127 Dennis Street when we lived there. As we had city water, we could water the garden, which kept the vegetables growing. The Rae's didn't know where their next meal was coming from. We had the CPR pass so were able to make the visit. They were tough times.
"The plant has been moved several times, even to BC and back; and many slips have been given to others."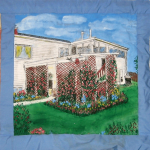 Patio –
"I built the patio, except the roof, at 11 Regent Cresc., when 82 years old; quite a feat placing the cement blocks, putting up the poles, then the lattice, drains, etc.
Then came the planting—climbing roses, wild grapes, perennials. Oh yes, and the robin that built her nest for over four years in the doorway where I could talk to her."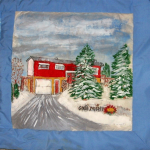 Blanket of snow –
"Even plants have to have a snooze – Good night."