The phone rang early Monday morning at which time I received the news my sister had passed away during the night. Whether expected or not, this type of news always comes as a shock. So, while preparing to make the journey back to Manitoba for the memorial service and some family time, I've been looking over old photos and remembering.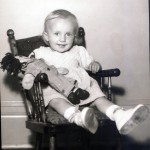 She was a happy child, playing with the Raggedy Ann doll that Mom had made.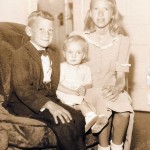 We had an older sister and brother who doted on her.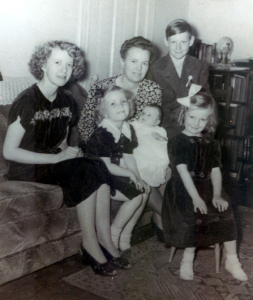 Later, myself and another sister made the family complete. (That would be Edna in the front with a large bow in her hair).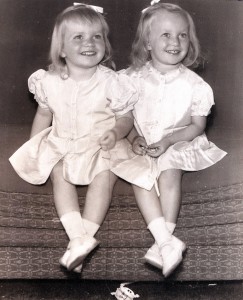 This is one of my favourite photos – can you tell which is Edna – and which is me?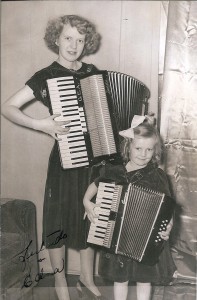 At the age of four she started learning to play the accordion, sometimes joining big sister, Gertrude, for a duet.
Later, other instruments, were added to her accomplishments – she lived for music – often choosing to play the piano rather than rushing to the table when called for supper.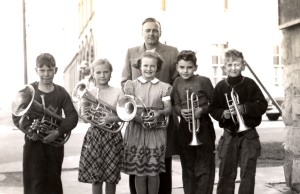 I'd forgotten that she learned to play the tenor horn with me prior to switching to the cornet (that's Edna right in the middle of our Junior Band).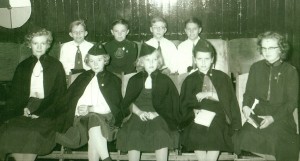 In addition to the band, we were involved in the Singing Company (that's Edna in the front – far right)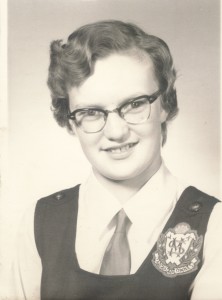 She was academically inclined, and could almost always be seen with a book in her hands (even while doing dishes –  by hand – we didn't have a dishwasher, it was us who had that chore to do every day).
Following the break-up of her marriage, she went back to school as a single mother of two, to graduate and go on to take teacher training – a career that lasted many years to retirement. She also spent countless hours at summer school in order to get her university degree.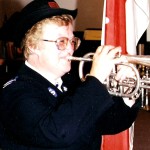 In addition to all the music at the local Salvation Army, she was faithfully involved with the school orchestra for a number of years, and would be seen playing at Memorial Day and Remembrance Day services.
Following her retirement from teaching, she also became involved in an after school program for children and a support worker for those seeking help through the prison system.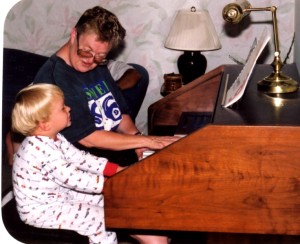 Here she is singing silly songs with Josiah, albeit she often did this with other children as well.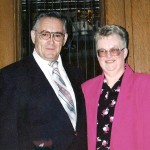 She married Charles Cookson in 1972 – and they celebrated over 43 years together.  Tragedy struck in 2007 and again in 2009 with the deaths of two of their sons – not to mention from 2002 to 2015 the number of parents, siblings, and other close relatives and friends who passed on.
Mom used to call herself "the coast-to-coast" grandma, as we lived all across this vast country.  But, whenever there were family get-togethers, it was Charlie and Edna who hosted the whole gang in their backyard.  We will certainly all miss those gatherings.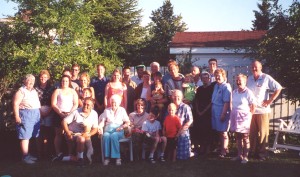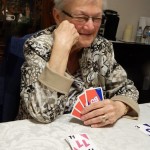 Fortunately, we were able to gather this past summer, not knowing it would be for the last time – and we have good memories of playing games until all hours (Edna didn't want to quit until she won at least one).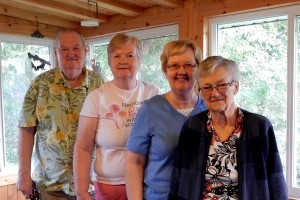 While most memories would end with "Rest In Peace", I would say to Edna – learn to dance on those golden streets as I expect to join you one day – and also – make sure you get to participate in the heavenly choir and orchestra.  Who knows, you may even get to play a harp.