Lillian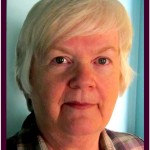 Growing up on the Prairies meant changing seasons and lots of fun times with family – puzzles, board games, and jam sessions around the piano. One of my earlier memories was an older sister and I always getting into trouble for reading by flashlight under the covers when we were supposed to be asleep.
Apart from work as a secretary, I have enjoyed a wide variety of hobbies and crafts which I still pursue. Several years ago a friend introduced me to scrapbooking, and from that I've branched into faithbooking as a way to document family stories and experiences.
I've had the privilege of living in many different parts of Canada, and visiting several other countries around the world.
I have two married children, and six beautiful grandchildren.
Gladys, Lillian's younger sister
From Sunday School, children's choir, youth group, Girl Guides, music lessons and other activities, my life growing up on the Prairies was full.
While raising my family, I served in various positions in several churches across Western Canada. This was followed by a few years in public relations for my denomination, two years in a Christian bookstore and then in community services. For a number of years I was employed in the field of communications for another Christian denomination, from which I recently retired.
All my life I have enjoyed reading, writing and photography. Other hobbies include learning about my family's history and helping others share their stories.
I have two daughters and their families who live nearby.